Cognex VisionPro ViDi™ Inspection
Deep Learning for Industrial Machine Vision
Harness the power of deep learning technology to solve manufacturing inspections too complicated, time-consuming, and costly to program using traditional rules-based algorithms.  Realize the benefits of automating inspections once only reserved for manual operators.
ELEVATE PRODUCT QUALITY WITH INDUSTRIAL DEEP LEARNING TECHNOLOGY
Throughout the modern manufacturing plant, various inspections have been traditionally reserved for manual operators due to automation challenges because of the complexity or variation.  However, the introduction of Deep Learning has not only now enabled these inspections to be automated but also performed to a higher degree of accuracy than ever before.
VisionPro ViDi™ is a deep learning-based software built for industrial image analysis that is ready-to-use, user friendly and easy to deploy.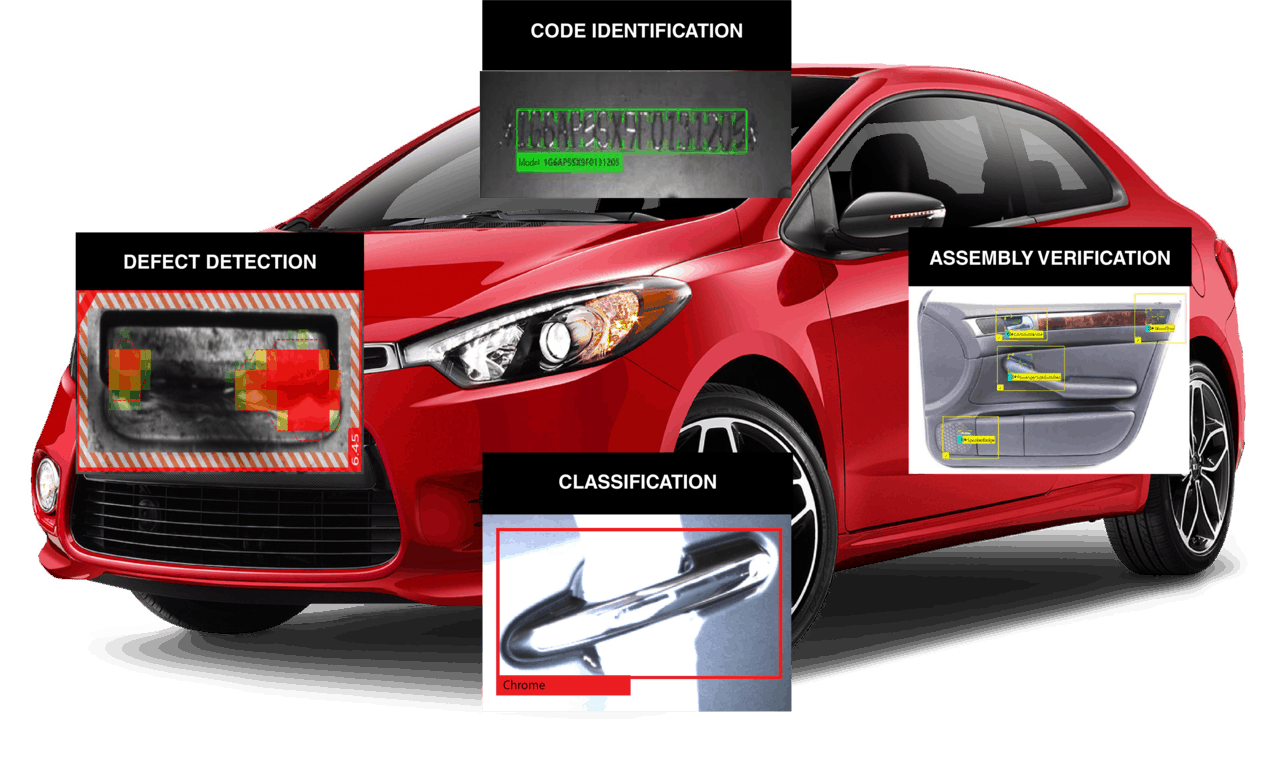 Purpose
Study the feasibility of Cognex VisionPro ViDi for inspecting laser weld quality
Setup
• 5MP Cognex 5705 camera was programmed to take images of laser welds on an existing customer's pallet line
• 40,000+ images were captured during a 3-week production period
• All images were inspected manually and with ViDi for comparison
Result
• The customer's trained operators identified 21 defective welds
• ViDi identified 23 defective welds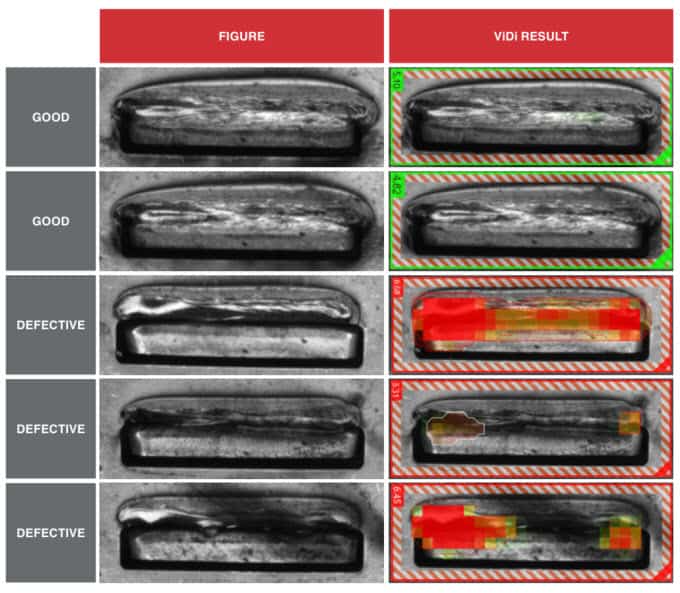 LEARN MORE ABOUT ViDi
Contact us today for more information, including pricing. We look forward to collaborating with you.
Self-Learning of a Human, Speed and Consistency of a Computerized System
VisionPro ViDi™ combines the self-learning of human inspection with the speed and consistency of a computerized system that is repeatable and accurate.  ViDi is able to handle complex parts and discern between acceptable variations and defects to catch even the smallest details.
| | Traditional Machine Vision | Human Inspection | Deep Learning Inspection |
| --- | --- | --- | --- |
| Type | Rules Based - Traditional Machine Vision is programmed by setting up tools that must meet certain thresholds or percentages | Learns by Example - Quality control operators are shown the difference between defective and good parts | Self-Learning - Deep Learning learns from sample images thus being able to discern between acceptable variations and defects |
| Speed | Fast - Typical inspections take 1-3 seconds | Slow, inconsistent - Inspection times are typically 5-10 seconds | Fast - Images are acquired by cameras and analyzed using processors |
| Reliability/Accuracy | Reliable, High Accuracy Rate Achievable - Quantitative measurements are computed on every inspection | Inconsistent, Lower accuracy - Defects can be missed depending on the skill of the current operator | Reliable, High Accuracy Rate Achievable - Images are always processed by the same algorithm |
| Complexity/Variation | Unable to manage complex or highly variable inspections - Traditional machine vision rules-based algorithms are not able to easily manage complex inspections | Able to handle large variability and complexity - Human operators have the ability to recognize defects in variable or complex inspections | Designed to handle variability and complexity - Deep learning thrives in accurately discerning acceptable variations even in the most complex inspections |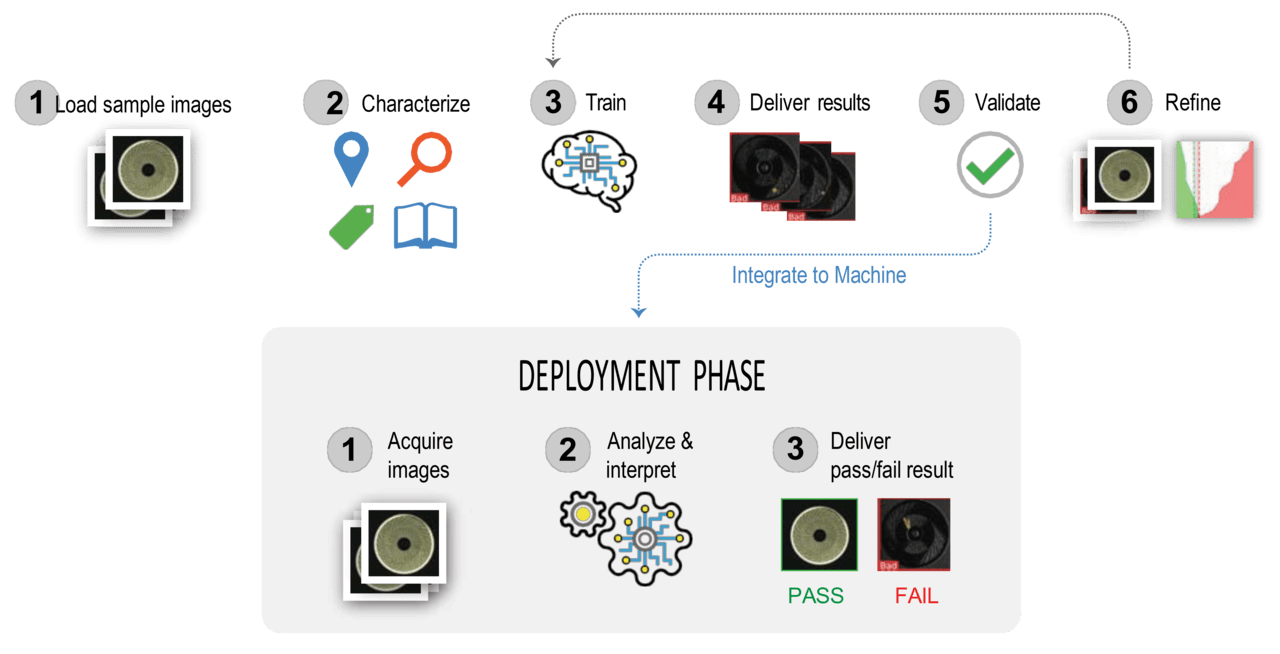 Cognex VisionPro ViDi allows technicians to train a deep learning-based model in minutes, based only on a small sample image set. Once the application is configured, ViDi delivers fast, accurate results ans saves images for process control.
Human-like, powerful, and fast
Unlike other deep learning software
ViDi does not require thousands of sample images to begin the training process
Field maintainable
Works with high resolution images,
including color and thermal, to recognize
virtually any anomaly
Tools can be combined with other Cognex vision tools to address complex
vision challenges